Al Bait Bait Aboona tickets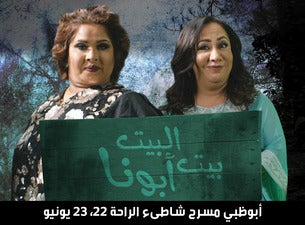 Al Bait Bait Aboona

Abu Dhabi Summer Season presents in partnership with MBC the comedy horror theatrical show "Al Bait Bait Aboona".

Starring: Haya Alshoaibi and Soad Ali

Haya Alshoaibi,one of the top female actresses in the GCC, Kuwaiti national, known for her comic roles in TV and Theater. She achieved a striking stardom in the famous program "Tarek and Hayouna" broadcasted on MBC channel as well as many different shows in Ramadan.

Soad Ali, Bahraini actress who is famous for her television shows in Saudi Arabia, Bahrain and Kuwait.

Right now we don't have any 'Al Bait Bait Aboona' events, but we may get some soon.
Browse events by category